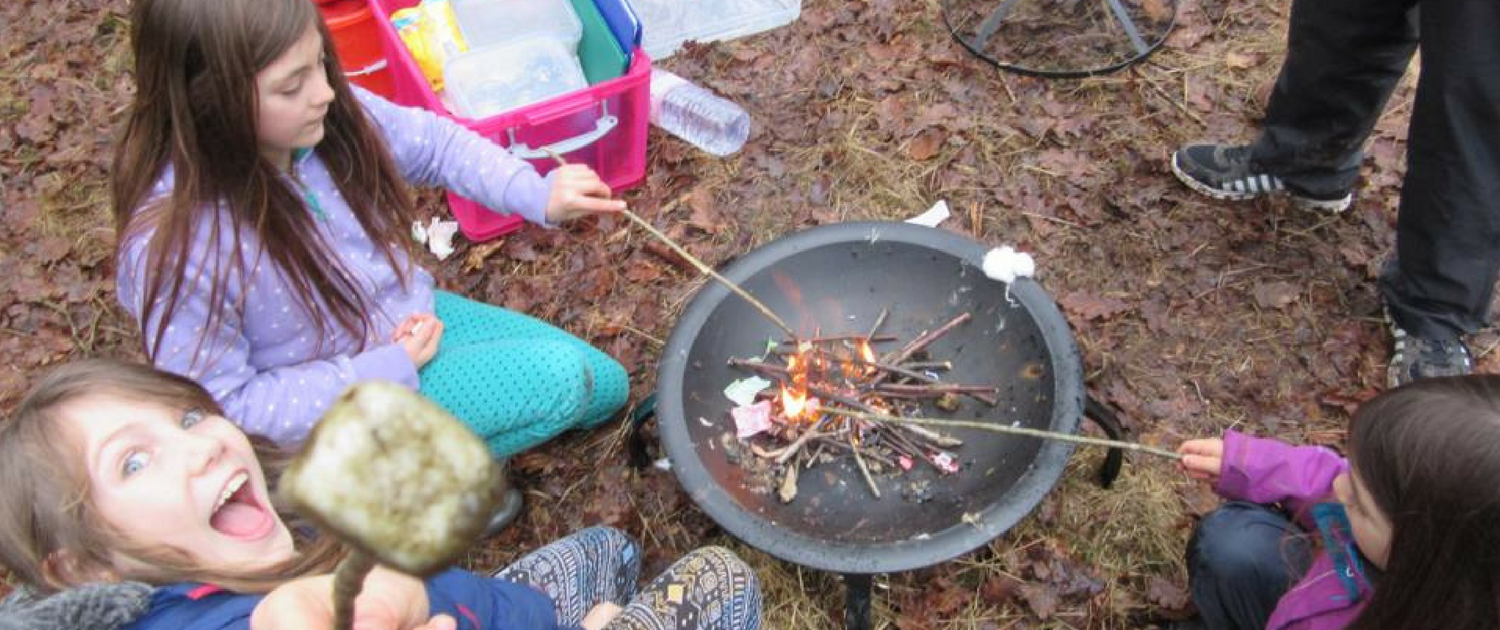 Schools & Other Educational Establishments
We offer a range of outdoor learning and yoga & mindfulness sessions for schools. These can take place independently or we can include different elements into each session. For example, including some mindfulness into a forest school session can be a fun way to really become aware of the surroundings using all of the senses. We are passionate about providing sessions to best suit the individual school and pupils needs.
Nes has vast experience and training in using yoga, mindfulness and forest school activities to help children, adolescents and adults experiencing stress, anxiety and trauma.
Sessions can be one to one, in nurture groups or whole classes depending on your needs. We also offer INSET training and sessions with staff to promote well-being and to develop a connected and supportive staff team.
Forest School and Outdoor learning
Forest School
Forest School can help develop personal, social and emotional skills: independence, self-discovery, confidence, communication and raise self-esteem.
A forest school course would usually be a minimum of 6 sessions to give ample opportunity for participants to benefit fully from the experience.
We are passionate about providing opportunities for child-led activities. Of course we shall plan sessions so that there is plenty to do and learn but we believe it is essential to be flexible to the needs and curiosities and passions of the children. We may start out learning about colours and end up tracking deer!
The main difference between outdoor learning and forest school is the focus. Whilst large sections of the curriculum may get covered during a forest school session the focus is on the relational, social and emotional, as well as being flexible enough to be led by the changing interests and curiosities of the participants, rather than sticking more rigidly to a topic.
We also offer sessions that include yoga and mindfulness whereby participants can further develop connection with themselves and their surroundings.
Curriculum Enrichment
Sessions can involve a variety of activities that support the National Curriculum in core and foundation subjects at all levels. Many people think that Forest School would only appeal to Key Stage 1, but Nes has lots of experience in delivering outdoor learning in KS2 and KS3 too. Sessions can also be tailored to fit with a topic (such as Vikings) or a book (such as Kensuke's Kingdom) to give focus and hands-on experience to take back into the classroom.
Nes's experience of working with both primary and secondary children, children with behavioural and emotional challenges and gifted and talented children means that she knows that learning needs to be constantly adapted to suit the individuals.
Learning outdoors can provoke a curiosity in learning that cannot often be achieved in the classroom. We offer a huge variety of curriculum enrichment for all year groups to suit your needs which can take place over a day, a week or longer. Some schools like to have an "outdoor week" where I work with different classes throughout the week.
Maths Outside!
We all know that maths is all around us but implementing this can be tricky. During this session we shall make the best use of your school grounds and integrate practical maths activities into your outside spaces and educational visits. This session makes specific links to the new curriculum for maths for Key Stages One and Two, especially implementing problem solving.
Outdoor School Science Lab
A report on science education published by Ofsted in November 2013 found that the more pupils do science for themselves, the more they learn, the more interested they become, and the more likely they are to study science in the future. We shall go beyond "bug hunts"to deliver aspects of the new Science curriculum.
Plants and Trees
We shall make the most of your outdoor environment and link outdoor learning to the new National Curriculum. We shall show children how to identify different trees and plants, as required in the new science curriculum as well as teaching about the historical uses of plants for health and well being. We can also teach whittling and making the most of the weeds and wood around you.
Plants and Poetry, Stones and Stories.
Experiential learning is vital in developing children's imagination. This course will help to catapult your students into writing. The session can cover developing stories, using and composing poetry and generating word banks for use in the classroom.
We are flexible enough to be able to tailor our provision to the needs of your school. If there is an element of teaching, learning, or playing in the outdoors that your setting requires but is not covered by one of these courses, please contact us to discuss your needs.
Other examples of previous curriculum enrichment lessons and days include:
Developing boys writing through outdoor stimulus
Solving mathematical puzzles and logic
Equivalent Fractions
World Book Day- Bringing Kensuke's Kingdom alive
Dinosaur Day
Seeds and dispersal
John Muir Award
Nes Bear is experienced in guiding groups through the John Muir Award by planning lessons in core and foundation curriculum subjects that meet the requirements of the award. It would be suitable for KS2/3/4 and adult groups.
The John Muir Award is an environmental award scheme focused on wild places. It encourages awareness and responsibility for the natural environment, in a spirit of fun, adventure and exploration.
Four Challenges are at the heart of each John Muir Award, to achieve an Award each participant must:
Discover a wild place
Explore its wildness
Conserve – take personal responsibility
Share experiences
The John Muir award would usually take place over at least a term to give ample opportunity for participants to benefit fully from the experience.
Chair Yoga & Mindfulness
Chair yoga is a sustainable option for schools that want their pupils to experience the benefits of movement and mindfulness but can't afford to give up precious time, space, or resources for equipment. This option inserts easily into existing class schedules and can serve many students in one day.
Mat Based Yoga & Mindfulness
Our most popular program brings yoga classes right into the classroom. Instructors teach using a blend of yoga, mindfulness, story telling, music while instilling positive values such as self care and community.
P.E
We can bring yoga to you school for PE class. We can make the classes more physically active or relaxing depending on the goals of the program. It is a fun, safe, noncompetitive way to get all kinds of bodies moving.
PSHE
We can deliver yoga classes focused on resilience, self-esteem, risk-management and teamworking, covering many aspects of the PSHE requirement in the National Curriculum.
After School
We designed our after school programs to mobilise students after a long day of sitting, reconnect with themselves, and transition into evening family time relaxed, rejuvenated, and inspired. We offer after school sessions in yoga, mindfulness, forest school and gardening. Sessions can be for pupils, families, parents or staff.
Sessions for school staff
Treat your staff to some self care. We know that teaching can be physically and emotionally tiring. Our yoga classes for teaching staff will include poses to feel invigorated and empowered as well as time to fully relax and let go of the day. We offer gentle yoga, chair yoga, mindfulness meditation, relaxation, yoga nidra and more. We also offer forest school and outdoor activities incorporating teamwork and mindfulness. We custom tailor these classes to the experience level and needs of your staff. We are aware that your time is precious and that after school the race to get the marking, planning and assessing done is a priority, therefore our school staff classes can be as short as just 20 minutes (or longer if you need time to fully recharge).
Qualified & experienced instructor
All of our workers hold current DBS certificates
First Aid Qualified
Public liability insurance
Risk assessments
Equipment
Planning meetings with Head and class teacher
Induction for staff, volunteers and children
Copies of our insurance certificates are available on request
One member of staff (this may vary depending on size of group/ ratio)
Group of 15 (this could be increased with increased members of staff)
participants to attend ready for the activity. For outdoor sessions participants should be wearing warm/layered clothes, wellies and waterproofs or sun cream and hats if sunny. For indoor yoga clothing that participants can easily move around in.
Transport to site (if applicable)
Costs vary depending on the needs of the school, equipment needed, school grounds, number of staff required etc. However, as an indicator a one hour session is usually around £50 (unless a block booking of 4+ sessions is made and then it is £40 per hour).
We reserve the right to change prices for future bookings
We are happy to look into funding for you if this is a barrier – Please ask.
Discounts apply for block bookings of multiple sessions. (Prices may vary depending on what package best suits your school).
Pricing for after school clubs can be negotiated, depending on timings and number of children. Please contact us to discuss the possibilities.
Are you interested in adding Forest School or Outdoor Learning to your school?
Contact us using the form below, or email Nes at info@bearforestschool.com: